Intelligent Design:
A Message from Dr. Mark Stengler

Dr. Mark Stengler, N.M.D.
Founder, The Stengler Center for Integrative Medicine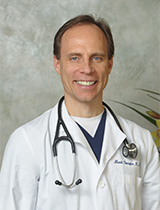 As one of America's leading naturopathic medical doctors, Dr. Stengler's passion for natural healing infuses everything he does.
Hailed as "the leader of natural medicine's new wave," Dr. Stengler has quickly become one of the most trusted evangelists in the now crowded world of natural healing. And his reputation for delivering the most advanced, effective natural therapies available makes him one of the most sought after Naturopathic Medical Doctors in the world.
But get to know him personally and you'll see there's much more to Dr. Stengler. He cares about the well being of people and much of the needless suffering they experience. Dr. Stengler's belief is that God has provided the body and nature with an amazing healing system. People like you need the right information on how to tap into this self-healing—he's simply here to help spread the message.